Foreword by Robert Madelin, Director General, DG CONNECT
Launched at the media partner's event, European Health Forum Gastein (EHFG) 2012
In partnership with: How are you?; GSK; Novo Nordisk; and SanofiA full copy of the European Directory of Health Apps can be downloaded from http://bit.ly/HEALTHAPPS
As of Oct 3rd 2012, the European Directory of Health Apps will be available in the public domain on the PatientView website:
http://www.patient-view.com/-bull-directories.html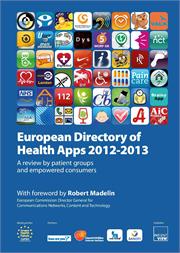 The European Directory of Health Apps 2012-2013 is the first-ever directory of its kind. It contains key facts on 200 health-oriented apps that are all recommended by patient groups and empowered consumers.The 200 apps are also categorised in the Directoryaccording to the service they provide the patient/consumer, and according to the language/s in which the apps are available.*Special effort was made in include apps devised by patient groups and other consumer organisations
Each app has a one-page entry in the Directory, containing the actual patient group/consumer recommendation/s, the cost of the the app, its developer/s (including some brief details about the developer/s), and the weblinks from which the app can be downloaded. Information and references are hyperlinked in the online PDF version of the Directory, to enable easy access.*All information in the Directory ireferenced and can be downloaded
WIDE RANGING AND IN MANY LANGUAGESThe variety and the international remit of the 200 patient/consumer apps in the Directory is impressive. PatientView has identified apps in 62 very-different health specialties. Until recently, most apps have been the creation of US developers. But PatientView has found that European developers of health apps are quickly catching up—the apps in the Directory are available in as many as 32 different European languages.
Click on links below for :Chart on specialties in the European Directory of Health Apps. Title of chart is "Number of apps for the following medical specialties/conditions in the European Directory of Health Apps."http://bit.ly/SPECIALTIESChart on languages in the European Directory of Health Apps: Ttle of chart is "Number of apps in the following languages in the European Directory of Health Apps"
HEALTH APPS REPRESENT A NEW AND POTENT 'E-TOOL'Health apps are capable of helping patients to self-manage their medical conditions round the clock. Apps provide support for patients (whether at home, at the doctor's office, at hospital, at work, or travelling/on holiday), and cater for a wide range of their healthcare needs. Health apps can even be invaluable for patients and members of the public who are traditionally hard for national healthcare systems to reach—such as homeless people.
SOME CASE STUDIES A few examples of the types of apps in the Directory are mentioned below:
• Apps that support self-management of a medical condition. U-Turn, developed in Northern Ireland, is an app to help people addicted to opiate drugs. The app advises the user on how to recognise the symptoms of an opiate overdose. The Scotland-based NGO that recommended the app, the Scottish Drugs Forum (SDF), describes it as "an excellent naloxone training aid and resource". The app is available in English.• Apps that allow patients to report adverse events. Fodspor [Footprints] was developed by a Denmark-based patient group specialising in patient safety, the Dansk Selskab for Patientsikkerhed, to "make it possible for patients and relatives to write their own hospital experience 'footprints' on the phone." Patient comments about their experiences are emailed to hospital managers, who gain unbiased, truthful accounts of patients' experiences of care in the managers' hospitals. Available in Danish.• Apps that support the homeless. UK charity, the Amber Foundation, commissioned its Amber Homeless Helper app to provide young homeless people throughout the UK with information on the many local services available to them. The Devon-based local NGO that recommended the app, Young People's Housing Advice, says that the app "is designed to provide as much information as possible to help people find the right support." Available in English.
• Apps to support patients when they travel. ICE 112 is an app developed in Iceland that utilises a smartphone's GPS system to enable the user to be tracked while they are travelling. The app alerts the emergency services if the traveller is in trouble. 112 is the EU-wide emergency number, and this app is recognised by the Belgium-based European Emergency Number Association (EENA). The app is available in English and Icelandic. Such apps are invaluable for people living with a chronic condition, giving them the confidence to go abroad. A similar approach is utilised by an award-winning app developed in Portugal, AlzNav. The app is intended to help guide people with dementia back to their home, and will call for help if the user becomes lost or disoriented. The app is available in English. Wheelmap, winner of the Smart Accessibility Awards 2011, helps people with impaired mobility: thanks to crowdsourcing it lets users of the application rate the accessibility for wheelchair users of public places".  The app is available in English, German and Japanese.
• Apps that support the clinical-trial process. Developed by Stephane Dufau of the University of Aix-Marselle, France, Dys is a learning tool for children with dyslexia, and also comprises part of a scientific programme at the University. Users e-mail their responses to the app, giving scientists insights into the letter spacing that will most help children with dyslexia to read. The French health NGO that recommended the app, ANAPEDYS [National Association of Associations of Parents of Children with Dyslexia], hopes "that this study, and the app, will bring real results for people with dyslexia." The app is available in English and French.
NEED FOR SOME SCRUTINY The importance of the European Directory of Health Apps lies not just in its categorisation of health apps, but also in its reviews of the apps. As Robert Madelin, Director General of the European Commission's DG CONNECT, notes in his foreword to the Directory:"From DG CONNECT's perspective, consumers and patients need guidance and support in finding useful and reliable apps. Scrutiny of these apps by informed users (such as empowered citizens and patient groups) could be one way forward. I am certain that this Directory will prove useful, not only to users of healthcare systems throughout Europe, but to the many European citizens who live or strive to live healthy lives as well as for everybody who needs such information in their everyday work."
FUTURE PLANS PatientView hopes to expand on this initial exercise in collating patient perspectives on health apps by increasing the number of apps and international scope it covers. PatientView will also shortly post on its website a link to an online survey in which developers of health apps can leave details of the apps they have created—if they want these apps reviewed by patient groups or empowered consumers. (All entries will be treated seriously, and every developer will get a reply about the outcome of the review process.) Finally, PatientView would also welcome the opinions of health professionals on the subject of health apps that help patients self-manage their medical conditions. Even apps are, in the end, no real substitute for proper clinical care. They are, though, an important healthcare tool, providing support to patients and public—a point that patient groups and empowered consumers are already emphasising.
About PatientView
Views of patients should be considered in all important healthcare decisions (whether a new healthcare product is being developed, or whether a government is instituting changes to a healthcare system). PatientView was formed in response to the emerging powerful new global patient movement. PatientView has worked to build bridges worldwide with the health NGOs that comprise the patient movement, to help define and support one of the most important phenomenon changing healthcare in the 21st Century. Today PatientView has the capacity to reach out to 120,000 such groups (covering over 1,000 specialties, and from most countries in the world). The patient movement grows continually in numbers and scale of influence.